I just put the finishing touches on a packet to mail off to the Ugandan child we sponsor through Compassion International. It's a reply to her letter telling me about her favorite things. I read it and cried. It turns out she loves to cook. She dreams of becoming a doctor. I told her that K's favorite color is pink and that we love to cook too. I told her that we love her and we pray for her every day.
Folding the letter in half, enclosing another picture of us and a scribbled drawing of K's, I wondered how long it will take to make the journey from Texas to Uganda. Curious, I typed our locations into google maps.
"We could not calculate the distance between Houston, TX and Uganda."
The message sat on the screen. I looked around my warm, safe apartment, where two healthy and fed babies of mine are sleeping. My refrigerator and pantry are full to overflowing. My husband - who is also healthy and fed - is out working to provide for me and our children.
It turns out I can't calculate the distance between where I live and where my sweet sponsored child lives either.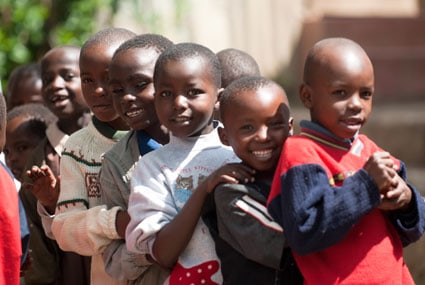 {To sponsor a child through Compassion International, visit compassion.com}